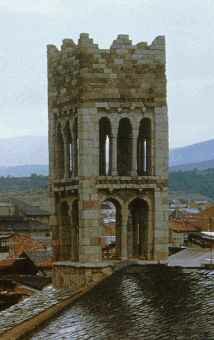 Bell tower of the Cathedral of Santa Maria de Urgell, in the Seu.
The region of the Alt Urgell is located in the same center of the High Pyrenees, in the valley of the Segre that forms its axis, and that in the sector of its capital, the Seu d'Urgell, is opened in an extensive mountain plain where the main channels from penetration to the Pyrenees come together and they turn it into an important knot of communications towards the Principality of Andorra, the Cerdanya, the Pallars Sobirà and the Noguera. The region is located perfectly in this pirenaico frame, simultaneously that looks for new channels of progress and future. The Alt Urgell has a rich historical past - centered in being the first capital of the county of Urgell and the seat, that still conserves, of the bishopric of Urgell - of which can be seen and enjoy interesting monuments, mainly románicos: churches, monasteries, sanctuaries, sculpture, imaginería, painting, carpets...
She is one of the regions with more paisajista variety: each valley is different from the others, with its own characteristics and their particular appearance. The climate, extremely rigorous during the smooth winter and in summer, allows all type of sport activities related to one or another station. The same way of being and living on its inhabitants makes of the Alt Urgell a singular and attractive region. Today, the Alt Urgell is a natural and incomparable frame, a valuable redoubt, fruit of the diverse civilizations and, finally, a continuous evolution between the challenges of the contemporary world.