The route. In order to know close by the term of Alàs i Cerc we recommended one to you of the routes that have been signalized in the region to carry out in mountain bicycle. One is the return to Lletò that, leaving the seat of Alàs, will take by the hermitage of the Mare de Déu of them Fish to you and the nuclei of Banat, Vilanova de Banat, Lletó, Ortedó and Benlloch until returning to the beginning site. 

The Romanesque one . More interesting the románicos monuments are the church of the Mare de Deu of them Fish (to your right), located at the top of a hill, and that dominates the town of Alàs, and the one of Sant Just and Sant Shepherd, in Cerc, in addition to the chapel of Sant Romà de Banat, of particular property. The counterpoint to the Romanesque one puts the chapel of Sant Antoni, of modernist style, near Cerc. 

Church of the Mare de Déu of them Fish. The Vilar of the Fish, in Alàs, is mentioned in a document of year 988 and the church of Santa Maria is documented from 1077. The chapel is of a single ship prolonged towards noon. The vault of original tube been has replaced by another one with knife and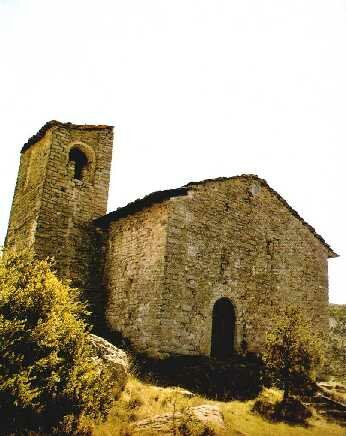 Church of the Mare de Déu of them Fish. (Clicad to see the greatest image).