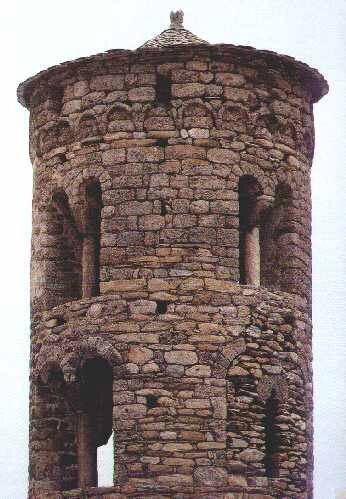 Bell tower of Sant Martí de Ars. (Clicad to see the greatest image).
In the Valley of Sant Joan, who opens itself to the left of the Farga de Moles, we found the town d'Ars, to 1,362 meters of height, another good example of these pretty pirenaicos corners of l'Alt Urgell. On the same town are the rest of the old castle of Ars, the ruins which are known with the name of the Drought. In the same valley of Sant Joan is the church of Santa Agnès, who was possibly the old parish of "Farrera dels Llops", village today depopulated. From it comes here, then, that of the Drought, Mecca and the Valley of Andorra , of passage towards the Principality. Returning to Ars it is necessary to remarcar over all his church and its round bell tower, beautiful unit of Romanesque lombardo, with geminadas windows and arcs in the superior part that, by its tipología, includes within a reduced group of circumscribed constructions a very concrete area of the Pyrenees, and that emphasizes by its exceptional nature. It is necessary to along with emphasize that, between the examples of cylindrical bell towers that there are to the region, this it is, the one of Santa Coloma, in Andorra, the only one that has been conserved intact. The one of Sant Serni de Tavèrnoles, destroyed partially, was incorporated to a new bell tower of square plant, also as it happened in Sant Tomàs de Calvinyà, whereas the one of Sant Serni de Cavarra seems Without head
and the one of Sant Vicenç to d'Enclar was remade in its superior part.