The "Pontarrons". In the north-western end of the term, near the bridge called of the Tower and to the right of the Segre, we found the " Pontarrons ", following of medieval bridges that comprised of the old way of Organyà to the Seu d'Urgell. The 1054 by initiative of Ermengol bishop were constructed between the 1026 and to save the deep cracks of the rock. The bridges are of arc of average point, that starts directly from the base.

The Romanesque one. Between the románicos monuments that are conserved in the municipality is necessary to emphasize the churches of Sant Víctor de Fígols, San Esteve de Alinyà and Sant Romà de Per to them, in addition to the chapel of Santa Pelaia, near Per to them. Also they contain románicos elements Sant Marc and Santa Eulàlia de Canelles, Sant Bernabé of l'Alzina and Sant Andreu de Tresponts. The chapel of Sant Pere is equally románica, near Canelles, even though cannot be visited because it is of private property. To some of these románicas churches we dedicated a special section to them in the section: "interest places".

The baskets. In Lime Gilet and Cal Graell, in the nucleus of the Vall of the Mig, you will find craftsmen basketmakers.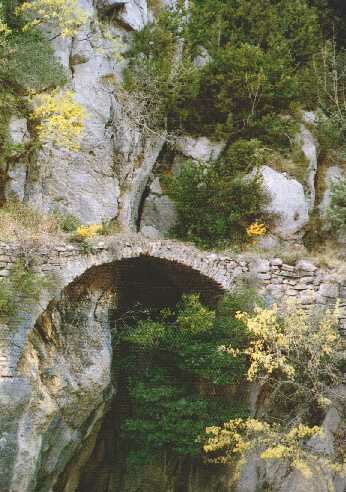 The "Pontarrons", old way towards the Seu. (Clicad to see the greatest image).