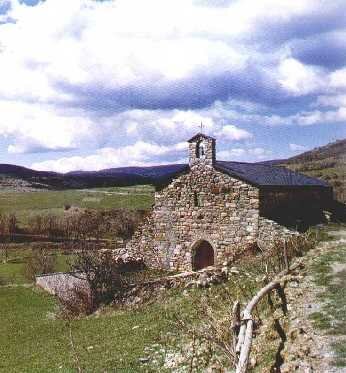 The church of Sant Martí de Taús. (Clicad to see the greatest image).
The town of Taús and the church of Sant Martí are documented for the first time in a testament of year 1094.
The building is of a single ship, cover with vault of tube, profile slightly pointed and reinforced to per two torales arcs that start of pilasters leaned to the walls. The apse of semicircular base is preceded by a presbiterial arc in which two rectangular niches are opened. The door original, with arc of average point and tapiada for a long time, has been in the South facade. The present access is located in the facade the west. There are two windows of double spill, one in the South wall and another one in the center of the apse. In order to arrive we must take the highway that leaves You novate of Segre, before entering the town, and that is asphalted about twelve kilometers, until the population of Espaen. Later we had left still another dozen of kilometers to arrive at Taús, by a earth track, wide and readily accessible. A route that is worth the trouble to make. When arriving it waits for this important monument to us Romanesque and a town that deserves to be visited, and in that live 5 or 6 families at the moment.